Posts:

265 (0.066 per day)

Games:

37 (0.009 per day)

Custom Title:

Scheme maker, map maker and Worms Knowledge Base editor. I also have translation projects.

Personal Text:

Founder of WoSC, a community about scheme creation

Gender:

Male

Age:

30

Location:

Curitiba - Paraná

Country:

Brazil

Clan:

AQUA clan

Community:

WoSC community

Community:

PoC community
Date Registered:

January 03, 2011, 09:30 PM

Local Time:

December 07, 2021, 09:50 PM

Language:

English

Last Active:

Today at 03:08 PM
Signature:
Do you want to know different and creative schemes around Worms community? Check
Scheme ideas
.
See all my maps on my
WMDB profile
.
My nickname has to do with my time records of the hardest rank to get after the credits of Metal Gear Solid 3.
I used to play WWP online before playing WA online.
gif made by sbs: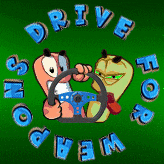 Personal note:
Hi, I'm
FoxHound
.
I create schemes
and edit
Worms Knowledge Base
articles (particularly scheme articles). I also
created some maps
which don't have the best graphics, but are original in my opinion and are very nice to play. Also many of these maps have schemes of mine. As you probably noticed, I love schemes (not only my own schemes, but all existing good schemes: original schemes, variations, new schemes, old schemes, famous schemes, Wormkit schemes, etc).
DumbBongChow and I created
WoSC
, a community for who really likes schemes. Do you like it? Join us!
I created a humor blog for WA players:
http://wahumor.wordpress.com